Accessories:
Instruction for use
    Principle of Test:
Immunochromatographic assay
    Product Performance:
Sensitivity: 99.20%
Product Name
Specimen
Format
Catalog No.
Sensitivity
Package Size
Strip Width
(TP) Anti-Syphilis Test
Serum/

Plasma

Strip
C20-11
99.20%
50 Tests
3.0mm
Cassette
C20-20
25 Tests
4.0mm
Whole Blood
Strip
C20-12
50 Tests
3.0mm
Cassette
C10-21
25 Tests
4.0mm
C20-22
1 Test
4.0mm
INTENDED USE: One Step Syphilis Test is a rapid chromatographic immunoassay for the qualitative detection of antibodies to Treponema Pallidum (TP) to aid in the diagnosis of Syphilis.
TEST PROCEDURE
1. Bring the pouched test strip to room temperature(15-30℃) prior to testing. Do not open pouch until ready to perform the assay.
2. Remove the test strip from the sealed pouch. Lay it on a flat, clean and dry surface.
3. Immerse the test strip in the specimen with the arrow end pointing toward the specimen solution. Do not immerse the strip above the printed MAX line. After a minimum of 15 seconds, remove the test strip from the specimen solution and lay flat on a nonabsorptive clean surface. Alternatively, the test strip may be left in the test specimen as long as the strip is not immersed above the MAX line. A separate test strip must be for each specimen or control.
4. Wait for the red line to appear. Read result between 10-20 minutes. Do not interpret the result after 20 minutes.
INTERPRETATION OF RESULTS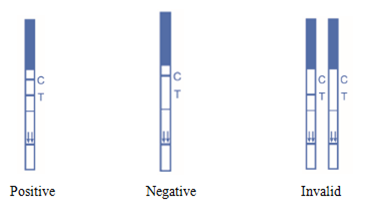 Positive
Two red lines are visible in the result area. The intensity of the test line may be weaker or darker than that of the control line. This still means a positive result.
Negative
The control line appears in the result area, but the test line is not visible.
Invalid
If the control line does not appear in the result area, the test results are INVALID regardless of the presence or absence of the line in the test region.
NOTE: Insufficient specimen volume or incorrect procedural techniques are the most likely reasons for the control line failure. Review the procedure and repeat the test with a new strip. If problem persists, please contact your local distributor.