Accessories:
Instruction for use, feces collection tube
Principle of Test:
Immunochromatographic assay
Product Performance:
Sensitivity: 50 ng/ml
INTENDED USE: The Fecal Occult Blood Test Device is a qualitative test that detects human hemoglobin in human fecal specimens. The test is a visual one step, in-vitro assay. It is intended for professional use to help diagnose gastrointestinal bleeding.
SPECIMEN COLLECTION AND STORAGE
1. Collect stool specimen by using the sample collection tube provided.
2. Unscrew the top of the sample collection tube, take out the sample collection stick and collect the specimen by dipping the stick into 3 different places of the stool specimen.
3. Replace the stick in the sample collection tube and screw tightly.
If the specimen cannot be tested on the day of collection, store the stool specimen at 2-8℃. Bring the specimen to room temperature before testing.
TEST PROCEDURE
1. Bring the pouched test device to room temperature (15-30℃) prior to testing. Do not open the pouch until ready to perform the assay.
2. Remove the test device from the sealed pouch.
3. Specimen collection. Please see "SPECIMEN COLLECTION AND STORAGE".
4. Shake the sample collection tube well.
5. Holding the sample collection tube upright, carefully break off the tip of collection tube.
6. Squeeze 3 drops of sample solution into the sample well "S" .
7. Read results between 5-10 minutes. Do not read results after 10 minutes.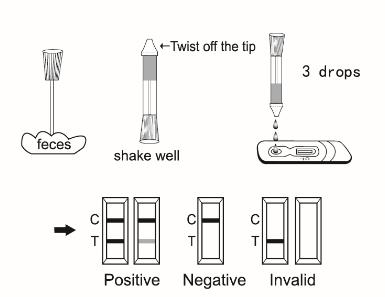 INTERPRETATION OF RESULTS
Positive: Two colored lines appears in the result window, one in the test region and another one in the control region. This indicates a positive result no matter the test line is stronger or weaker than the control line.
Negative: Only the control line appears in the result window. This indicates a negative test result.
Invalid: If the control line does not appear, the test results are invalid regardless of the presence or absence of the test line.
NOTE: Insufficient specimen volume or incorrect procedural techniques are the most likely reasons for the control line failure. Review the procedure and repeat the test with a new device. If problem persists, please contact your local distributor.